Betting Offers & Betting Accounts - Oct 2020
At newbettingoffers.co.uk we make it our business to compare every betting site licensed and operating in the UK, and any that captures our attention with a strong welcome offer for new betting accounts, great value betting offers for exisiting customers, or any other interesting betting promotions, will feature on our site.
Read More
*Sort the table by clicking the arrows in each column. T&Cs apply to all new customer offers in the table above. Click "Claim Offer" for more details.
Who are the "new betting offers" team?
We are a team of industry insiders here to cut through the noise and bring you the best betting offers available to UK punters today. Our content is updated daily to ensure we always bring you the very latest betting offers for both new customers and existing customers, and if strategies and insights are your thing, then be sure to have a read of our betting guides before placing your next bet.
Betting Margins Explained
All bookmakers build margins into the markets they take bets on, in order to hopefully guarantee themselves a profit.
Therefore, as a punter if you have the ability to calculate betting margins using a simple formula, then you can easily identify which bookies are offering the best odds.
The "True Odds"
The best way to explain how this works is using the classic coin toss scenario. In any coin toss the probability of heads is 50% and tails is 50%. So the true odds for both outcome is evens (2.0). 50% + 50% = 100%. Making this a fair, or "round" market.
However, if a bookmaker offered the above true odds on a coin toss and took an equal amount of money on each outcome, they would just break even and not make any money. For example, if they took £100 on heads and £100 on tails, at these odds of evens (2.0) they would be paying out £200 regardless of the result, meaning a profit of £0.

Therefore, bookmakers will offer lower odds than the true odds in order to build in a profit margin. Keeping with the coin toss example, a bookmaker might instead offer odds of 10/11 (1.91) on both heads and tails outcomes. This is now implying that both have a 52.36% probability of being the correct outcome. 52.36% + 52.36% = 104.72%, making this an "overround" market, where the bookmakers margin is 4.72%.
So now if they took £100 on heads and £100 on tails, at these new odds of 10/11 (1.91), and the result is heads, the bookie would pay out £191 (£100 x 1.91) on heads and be left with £9 profit. Likewise, if the result is tails they would pay £191 out on tails and still have a £9 profit.




Now bookmaking is a business, so it's fair enough that the bookies have their margins, however as punters we should always be looking for the best value for our money, and by this we mean the betting sites that have the lowest margins and offer as close to the true odds as possible.
Example:
Let's compare the odds offered by Skybet and bet365 for the Tottenham v Man Utd match.
Skybet are offering: Tottenham 5/4 (2.25), Draw 12/5 (3.4), Man Utd 23/10 (3.3)
bet365 are offering: Tottenham 69/50 (2.38), Draw 121/50 (3.42), Man Utd 23/10 (3.3)
To calculate each bookies margin here we make the following calculation using the decimal odds:
Skybet: 100/2.25 + 100/3.4 + 100/3.3 = 104.16%
bet365: 100/2.38 + 100/3.42 + 100/3.3 = 101.56%
From this simple calculation we can see that skybet's margin is considerably bigger on this match than bet365 bets, so bet365 are the best value by a long way.! If you do this for every Premier League match (as we do over on our Premier League Margins page) you will be able to see the bigger picture, and which bookies consistently offer the best value for money.
This formula can be used on any market in any sport. Remember, the lower the bookies margin the better value it is to you!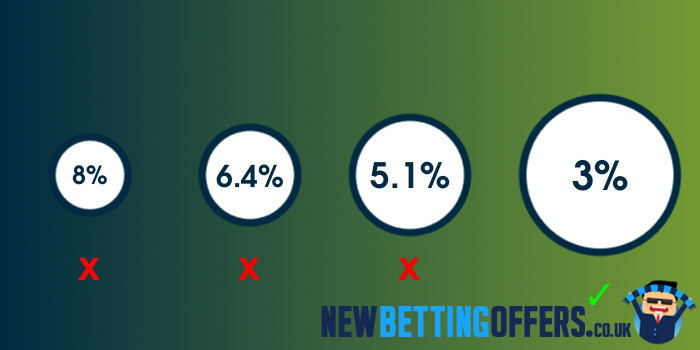 How do we Calculate the Betting Margin for a Football Match?
Suppose we take the match between Arsenal and Everton at the Emirates as an example, and compare the odds offered by betfair and William Hill.

To calculate each bookies margin here we make the following calculation using the decimal odds:
betfair: 100/1.32 + 100/5.8 + 100/11 = 102.09%
William Hill: 100/1.25 + 100/5.5 + 100/10 = 108.18%
One simple calculation shows us that there is a huge difference in the betting margins of these two firms, with betfair offering a better price on all three outcomes for the match result, and betting to an ultra competitive margin of 102.09%. Where as Hills are betting to a stingy 108%!
Now let's say we also look at the betting for Leicester v West Ham:

And we calculate the margins again using the decimal odds:
betfair: 100/1.8 + 100/3.6 + 100/5.2 = 102.56%
William Hill: 100/1.66 + 100/3.6 + 100/5 = 108.09%
Once again betfair are offering much better value with a low margin of just 102.56% and better prices on two of the outcomes, and the same price on the other outcome over William Hill. Now imagine if we want to place a £10 double bet on Everton to get a shock win at Arsenal and Leicester to beat West Ham. The value of betting with the low margin firms such as betfair becomes even more apparent:
betfair: £10 @ 11.00 x 1.80 = £198
William Hill: £10 @ 10.00 x 1.66 = £166
So we would be better off to the tune of £32 if we placed this bet with betfair. And that's just on a double. The difference in your returns will keep growing as you add more and more selections and the extra value offered by the low margin bookies is compounded.
The lesson is, make sure you shop around and look at the prices before placing your Premier League bets, particularly if you place accumulators. And remember, it's not always a case of the largest firms who shout loudest with the biggest tv marketing campaigns offering the best odds.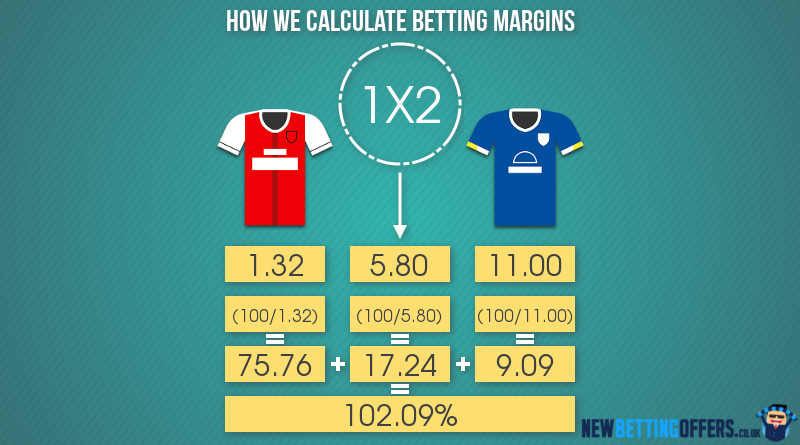 How do we Calculate the Betting Margin for a Horse Race?
Taking the 2.15 Chepstow race as an example, let's compare the odds offered by William Hill and bet365 to calculate what margins they have built into their books:
2.15 Chepstow race
To calculate each bookies margin here we make the following calculation using the decimal odds:
William Hill: 100/2.25 + 100/2.75 + 100/4.5 + 100/8 + 100/29 + 100/101 + 100/101 = 120.96%
bet365: 100/2.38 + 100/2.75 + 100/4.5 + 100/8.5 + 100/29 + 100/101 + 100/126 = 117.60%
The above shows that bet365 have built in a lower margin here compared to William Hill, and are therefore offering the better value odds to customers.
In this particular case bet365 are either equal to or better than the price offered by William Hill for every single horse in the race. This will not always be the case but the bookmaker with the lower overall margin built into a race will, by definition, also be the one with the better odds on the majority of runners in that race.
So, the lesson is, shop around before placing your horse racing bets. Don't assume that the older more established bookmakers have the best prices, as more often than not, they don't!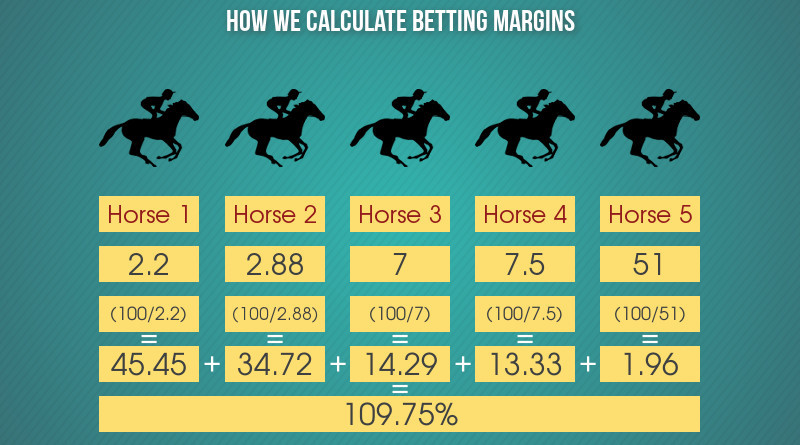 Looking beyond the Betting Offers: Other things to consider when choosing a Betting Site
Choosing which betting site to sign up with is a big decision, and one that is determined by many factors. Here are some things to consider when you are looking to find the best betting site for you.
Welcome Betting Offers – Yes, despite the title we had to start the list with this! The vast majority of bookmakers offer these, and they vary from free bets to bonus funds, enhanced odds betting promotions and much more. The key with these is to get one that is as big as possible, but also one you can use in the best possible way based on your own betting patterns. Big free acca bets may look great, but if you're not an acca punter, these lose value. Match the free bet type with your own betting style to get the best value.
Regular Betting Offers – After taking advantage of the welcome offer, many bookmakers offer a number of other benefits you can take advantage of. Try and match these to your betting style again, acca insurance promotions and boost offers are great for accumulator punters while money back horse racing offers are perfect for those who bet on the horses.
Odds – Over the course of a year, taking advantage of good odds compared to bad odds can make a huge difference to your profit and loss. Compare the odds on offer across different sports, look at antepost betting, pre-match and live odds, as much as you can to get an idea of how the odds stack up at each bookmaker. Also look out for best odds guaranteed if you are a horse racing punter, this is a great offer and results in you getting the biggest price when SP is bigger than the odds you take.
Markets – You don't want to limit yourself when signing up to a new bookmaker, so check out the markets on offer, the leagues and events covered and the general rule is you want to give yourself as much choice as possible. Also look at in play betting markets here, and if you want horse racing, make sure the bookmaker offers it as some smaller bookmakers don't.
Other Features – Things that will make your betting life better, easier and more fun. Cash out on bets, including partial cash out, detailed horse racing form, free to play prediction games and other things are what you should look out for here.
Website Interface – Browse the site as a punter, try it on mobile and do what you can to make sure you are happy navigating the site and that you can find what you are looking for with relative ease.
Mobile Experience – How can you bet on mobile, do they have iOS and Android apps? What is the mobile site like to use? Mobile betting is critical for many punters, and it is only expected to grow further in the coming years.
Payment Methods – Does the bookmaker offer ones you have used before and trust online? Can you deposit and withdraw without the need to setup a new account somewhere to send funds? You want to make payments as easy as possible for yourself.
Support – The hope is you never need the customer support team, but what if you do? When are they available, how do you contact them and do they have a good reputation?
Trust – The most important point is this final point. You won't enjoy your betting experience if you don't trust the site you are on. Check they are registered properly and show their license number so you can sit back, relax and enjoy your punting rather than worrying.