The Football Pools Review

Many older football fans will remember the football pools games that took place, well the great news is that they are now back and revamped to bring them in line with the types of pools games we all know and love in the current era.
Traditional fixed odds sports betting is not found here, instead you can get involved in many different pools, all based around football. If you want something completely different but still want the chance to bet and try to win on football, Football Pools can offer exactly that.
On top of offering football pools betting, they also offer Irish lottery gaming for those who want it.
Subscription Games
If you want to play on a regular basis with Football Pools then the subscription games they have on offer could be the best option for you. This allows you to pay a monthly subscription price to get involved in every game that is taking place in the month.
There are three games that fall under this, the classic pools game (picking score draws), goal rush (picking games where both teams score) and lucky clover (an Irish lottery bet). To get involved with the subscription, simply play the monthly fee and remember to make your picks when you are ready.
Instant Play Games
The three games we have mentioned above can also be played as instant play games, so they are also available in this list.
On top of that there are also three other games that are instant play only, and these are named Premier. There are three versions, Premier 6, Premier 10 and Premier 12 and the number attached is how many teams you pick. This is a 1X2 game, so you can pick home, away or draws, with the chance to win various jackpots.
What Prizes are Available?
When you are betting into pools, you should always look out for the minimum win that is available, to ensure you are getting good value with the pool, even if you win with other people. Here are the win amounts for each game, so you know what to expect.
Classic Pools – win £3 million
Goal Rush – win £1 million
Lucky Clover – win £1 million
Premier 6 – prize pool from £10,000
Premier 10 – prize pool from £30,000
Premier 12 – prize pool from £60,000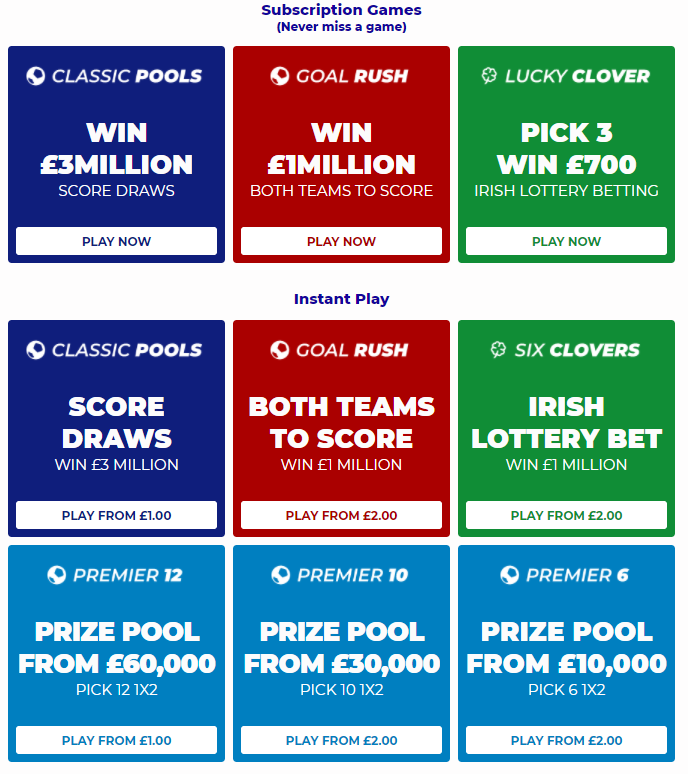 Other Features of the Football Pools Site
The Football Pools site has a range of other features that are included and can help you. One of these is match previews, they list a number of match previews on the site, helping you to make your picks if you feel like you need any help.
On top of this, the site is full of results if you want to check your bets, rather than going elsewhere to do that. You can also keep up with scores here, to see how your bets are going at the mid-way point if you wish.
Lastly, Football Pools offer a refer a friend bonus for players. If you are already a member, refer a friend and when they sign up you will receive £10 for that.
UK Safety Check

License number: 48272